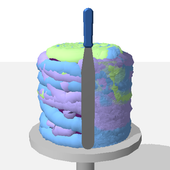 Deskripsi
Game simulasi makanan paling realistis yang ada. Kue realistis akan membuat Anda lapar.
I Peel Good, Icing on the Cake adalah obsesi Anda selanjutnya. Uji keterampilan menghias kue Anda! Santai dan salurkan tukang roti batin Anda dalam Icing on the Cake. Begitu banyak kue-kue yang menyenangkan untuk Anda putar, pipa, hias, dan ratakan? Bisakah Anda membuat kue yang sempurna? Menyenangkan dan mudah dijemput tetapi jangan lewatkan tempat ... Apakah Anda akan menjadi orang pertama yang menyelesaikan semuanya?

Warnai dan hiasi kue pernikahan atau kue ulang tahun yang sempurna. Hasil akhir yang lezat akan membuat Anda merasa lebih lapar! Waktu adalah waktu kue.Ini adalah game simulasi kue zen terbaik dan paling ada. Semoga berhasil, letakkan Icing di Kue!

Informasi App
Latest Version:

1.17

Publish Date:

2020-01-23

Requirement:

Android 4.4+
Icing On The Cake Versions More
Silahkan tulis komentar Anda